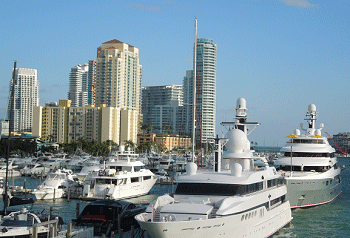 The South of Fifth, SoFi, District or neighborhood on the southernmost tip of South Beach, Miami Beach, is a tropical oasis peninsula surrounded by water on three sides and is one of the most desirable locations on Planet Earth.
This enclave is home to the 18-acre South Pointe Park and the incredibly beautiful Atlantic Ocean front shoreline and government cut waterfront walkway.
The boundaries of this part of paradise have been defined as the region South of Fifth Street, specifically beginning at the median or center line of Fifth Street and ending at Government Cut, extending from the Atlantic Ocean to Biscayne Bay.
South of Fifth, SoFi, is by all metrics the most sought after location on Miami Beach and top rated in the World. High-rise condos along the ocean front provide for the highest level of luxury living in this prime location.
Art Deco buildings remain part of the history, culture and landscape. Many restaurants, including several considered the best in Miami Beach, Florida, US or The World reside in South of Fifth.
The 18-acre South Pointe Park adds a lifestyle component that is rare and lends itself to the very special character of this area. Incredible location on and view of the Atlantic Ocean where one can enjoy walking, biking, playground, bathroom facilities, pavilion with food & beverage, hangout or people watch. The more you search it the more you will receive extremely positive feedback on all social media fronts. One comment- "The best park in the World" Five Stars.
This neighborhood also includes the Miami Beach Marina. An outstanding world class, full service, 400 slip marina accommodating vessels up to 250 feet with immediate Atlantic Ocean deep water access with no bridges. This venue provides for access to great fishing, power boat racing, jet skis, and all water sports you can imagine, sailing, cruising and more.